What does water represent to you?
Petr Kvapil: Water is an unfettered element for me, without which we cannot live. The basic and ubiquitous substance of many forms and states with a huge ecological, social, cultural, economic and political overlap.
Ian Phillipps: Water is critical to life, communities, and business operations, globally. Billions of people live in water-stressed areas, and without action this number will increase rapidly in the next twenty years. Fresh, clean water must be made available, delivered through programs of water conservation, management, treatment and reuse. Both Photon Water and others working within the water sector need to be aligned around these goals so that together we can build a water-resilient future.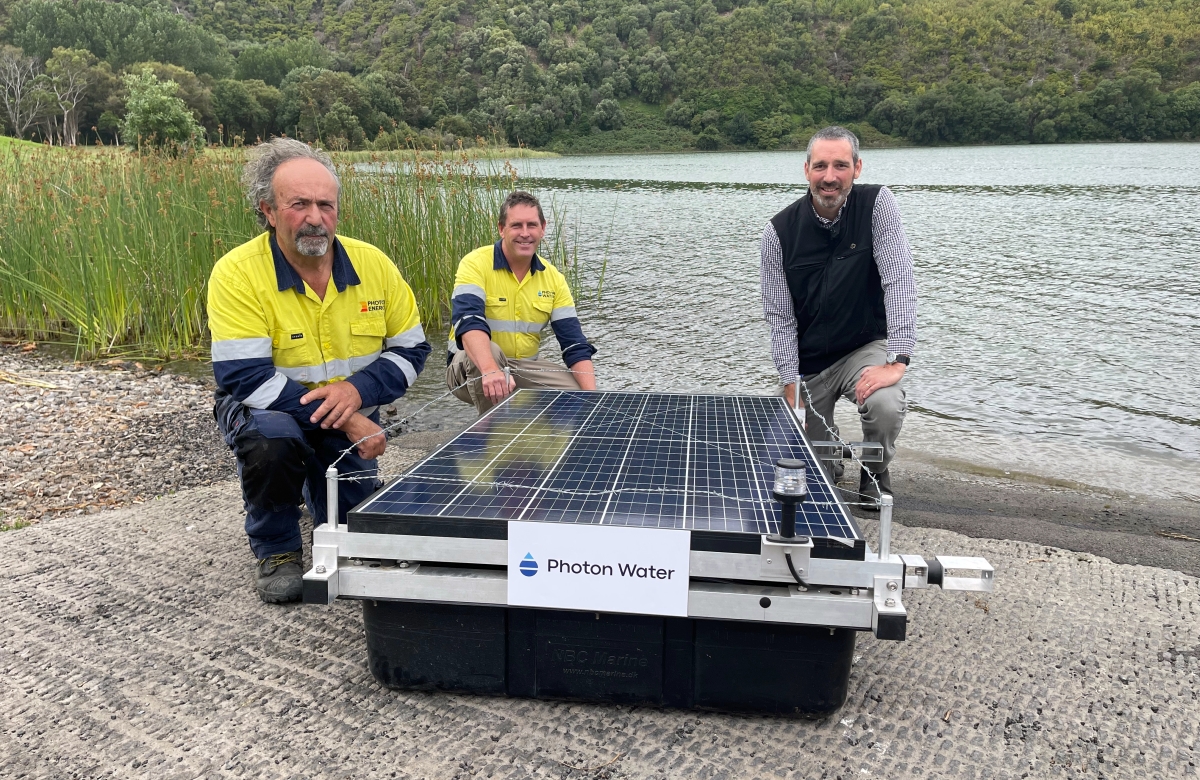 Ian Phillips (centre) with colleague Manuel Cilia (left) and a customer during the installation of a water monitoring system.
How did you start working with clean water solutions?
Petr Kvapil: I've always been in touch with water. I spent my early youth in Slapy, near a well-known dam and was constantly in the water. I learned to swim at 3 years old. More officially, I started studying water at university, at the Faculty of Science of Charles University. I studied Hydrogeology, which is the science of groundwater.
I chose this field more or less by accident, in my graduating year of high school from the university catalog. I was interested in hydrogeology as a complex field with a large overlap. The study of geological disciplines at the time also opened the way to travel abroad, which was not easy back then for Czechs.
I gained my first work experience in my fourth year of university studies, when I got a part-time job in a company dealing with water resources and groundwater remediation. I have been working in this field since then, though the spectrum of activities is constantly expanding according to social needs, demand for services, expert activities and water-related products.
I gained first practical experience while studying geology and hydrogeology in Prague, Czech Republick, at the Mining Institute in St. Petersburg and later during foreign internships and expeditions to the St. Petersburg and Pskov regions, Crimea, Kyrgyzstan or Transcarpathian Ukraine and mining mapping in Rožňava, Slovakia. My further professional orientation into the field of Environmental Chemistry and the management of water contamination was influenced by my post-doctoral PhD work at the French Universities of Marseille, Besancon and Ales, and later professional collaboration with experts in the field at the major University of California, Berkeley, with further focus on contaminated sites.
I have also worked on several interesting projects in the field of remediation such as: the bombed out refinery in Pančevo Serbia, the former Soviet Army military bases and training facilities and the Spolchemie chemical factory in the Czech Republic.
Ian Phillipps: I was fortunate after completing my chemical engineering degree to join a global, innovative water treatment company headquartered out of the US. They were driving water sustainability well before the term was even invented, back in the 1930s. I had many wonderful experiences living and working with diverse, great teams across Australia, Asia and globally in this company. I spent time in technical sales, operations, and leadership roles. Subsequently I have gained experience in hazardous liquid waste management and resource recovery. Water-related work has been the foundation of my career, and will continue to be in the future.   
What do you enjoy most about your job with water?
Petr Kvapil: The most interesting thing is the incredible variety and connection with the many other fields and activities I mentioned above. There is a lot of fascinating overlap between different fields related to water quality and quantity: chemistry, hydraulics, geology, biology, limnology and others. It is probably difficult for me to remove any of the activities performed, but the greatest satisfaction is always a good result if it can be achieved. 
Ian Phillipps: Without a doubt, the people I work with bring me energy, make me smile and reinforce the importance of what we do. I love that we collaborate so well, in a positive culture to support our customers and solve water-related problems that are globally critical. 
Do you have a favourite Photon Water project?
Petr Kvapil: At the moment, I consider there are two Photon Water projects that I find to be the most interesting. In the area of ​​lake management, there is a project addressing water quality in the cascade of water reservoirs called Mšeno, in the city of Jablonec nad Nisou, where a mosaic of measures to improve the quality of bathing water is being applied or prepared. The second project is a European research and development project that allows us to further advance our patented groundwater treatment technology using a combination of electrokinetics and elemental iron nanoparticles. This project will also take us to an interesting, contaminated site in northern Spain.
Ian Phillipps: I like that we are 'living our strategy' through close collaboration of water and energy projects. Right now, we are developing some game-changing technology on the energy side that will provide thermal hydro solar energy and continuously dispatchable utility-scale power. I am excited about the water implications of this project, and the ability for us to be able to provide clean, fresh and lower-cost water to surrounding communities and industry through this synergy with energy.
I must admit that our current project with the Australian Government, Department of Defence is a favorite. Whilst the project outcomes are still being determined, I have rarely felt such support with a client – their desire help deliver a great result, and support this technically complex project is quite unique.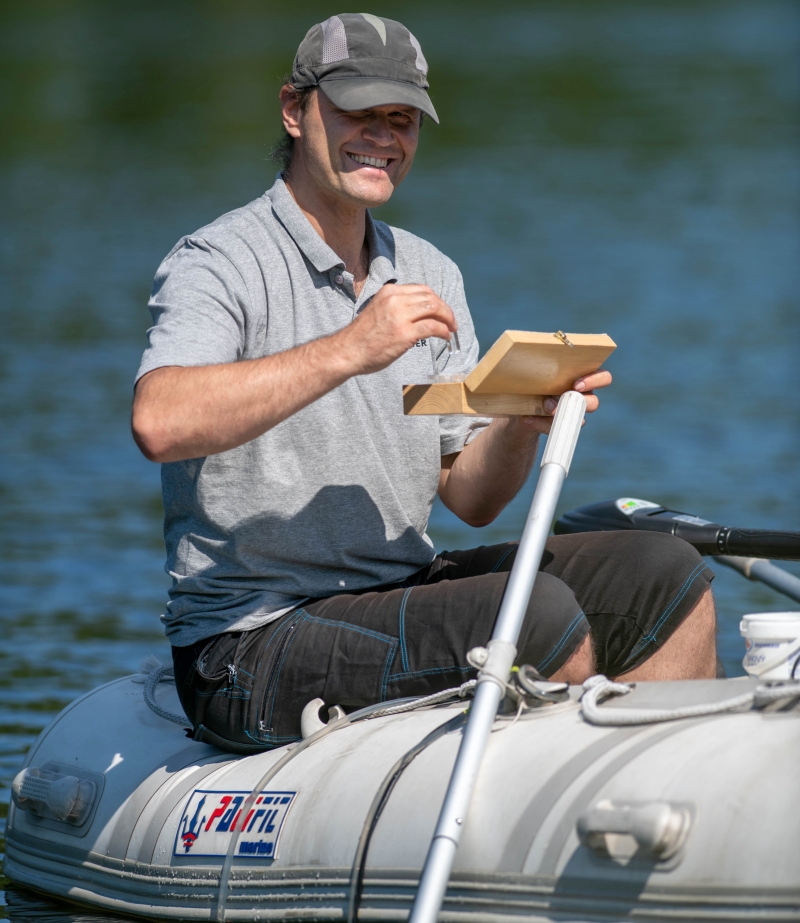 Petr collecting water samples for a lake management project.
What was the most challenging/unsuccessful project you've worked on? Is there anything you learned from it?
Petr Kvapil: I think the most demanding, yet least successful project was our business activity in Peru. Although we were able to raise development funds and compile an interesting list of business opportunities, we were not able to achieve a stable, functioning business in Peru and Latin America. We devoted a large amount of energy, time and money to this project, and at the end of 2021 we decided to close our branch in Peru. On the other hand, this activity was an extraordinary experience and learning opportunity not only for me, but also for my colleagues who participated in supporting our Peruvian team.
Ian Phillipps: There have been many over the years in sectors across mining, hazardous waste management and drinking water. I see different challenges in different markets, with water-stressed countries like India and Australia requiring innovative thinking to both conserve and protect as well as treat water. I have also worked with industry partners who don't understand the value of water as a resource, but I am seeing many change their views which is refreshing.
Most importantly, a culture of continuous improvement, where I can learn from mistakes, gain feedback, and improve for the next project is critical. I have developed so much more over the last few years in this area.
One of the most challenging work experiences for Petr Kvapil (left) was entering the water treatment market in Latin America.
What is the most significant water-related issue Photon Water is currently addressing in Australia / Czech Republic?
Petr Kvapil: I think that the most serious problem that Photon Water has a concrete solution for is the proven ubiquity of dangerous polyfluorinated substances (PFAS) that can be found in drinking, surface and groundwater. Although this issue is not a top priority in the Czech Republic for the time being, I believe that this is the most pressing problem for which Photon Water is preparing – or has already prepared – solutions. In addition to these specific contaminants, We have experience with and can address a wide range of contaminants such as petroleum substances, oils and various toxic solvents or pesticides. I would also like to mention the very burning issue of eutrophication of surface waters in the Czech Republic, which we have been dealing with for a long time and have developed a comprehensive solution for.
Ian Phillipps: Australia is a highly water-stressed country, although at the current time we are working through extremely damaging and major floods along the east coast. This alone brings challenges for those impacted by the floods, unable to live in housing, or access clean and fresh water. Flooding aside, many more water users will continue to compete for limited water resources. Available water is becoming scarce, aquifers are not recharging, and surface water requires better management. Water conservation is a key issue, where industry especially should reduce the use of water within process operations.  
Are there any challenges you'd like to see Photon Water tackle in the near future?
Petr Kvapil: Probably the biggest challenge to date is the project of phosphorus precipitation on the inlet to the Mšeno reservoir in Jablonec and the Tyršov swimming pool in the city of Rakovník. This is an activity for which we have the professional prerequisites, but it will be our first operational experience. The second challenge for us will be the launch of pilot trials of nano remediation in Spain for a multinational company called Solvay. In this case, there will be a relatively large mobilisation of both technology and people. Drilling work, the application of elemental iron nanoparticles and electrokinetic support will be carried out in a remote location in northern Spain.
Ian Phillipps: We are currently working to help remediate contaminated sites that have been impacted by hazardous liquid wastes and PFAS chemicals. these are highly soluble and mobile and can impact the environment. With both surface and in-situ groundwater remediation solutions in place, we hope to be able to improve the environment, solve problems for our clients, and also have a positive impact on the surrounding communities. 
Long-term, do you have any dream projects?
Petr Kvapil: My dream, which I think is now being fulfilled, is growing a successful water management-oriented company, working with a team of interesting co-workers and partners, without whom it would not be possible to achieve this.
Ian Phillipps: I love the idea of doing what we are doing now, but on a broader scale as we grow our business capabilities!
And personally, do you enjoy spending time in and around water, or do you prefer to get away from it in your down time? Would you like to take on any personal water-related challenges, like sailing or white-water rafting?
Petr Kvapil: From a practical, day-to-day standpoint, I would like to make my own property self-sufficient in terms of drinking, utility and wastewater solutions. As for hobbies, I would like to focus more on windsurfing and learn to kitesurf.
We always plan our holidays with the children around water, on the water or in the snow. On the other hand, we are happy if it doesn't rain, at least for a while!
Ian Phillipps: I do believe I have a connection with water, both professionally and personally. As a SCUBA diver, I have completed almost a thousand dives and spent time exploring underwater cave systems in Australia during my 30s. I am also a keen swimmer and can be found in the ocean almost every day when my work travel allows. I competed competitively as a junior and I belong to a historic swimming club here in Sydney. I have also completed many ocean swim races, with my most memorable (and painful) being a solo crossing to Rottnest Island off the coast of Western Australia, a distance of 20km.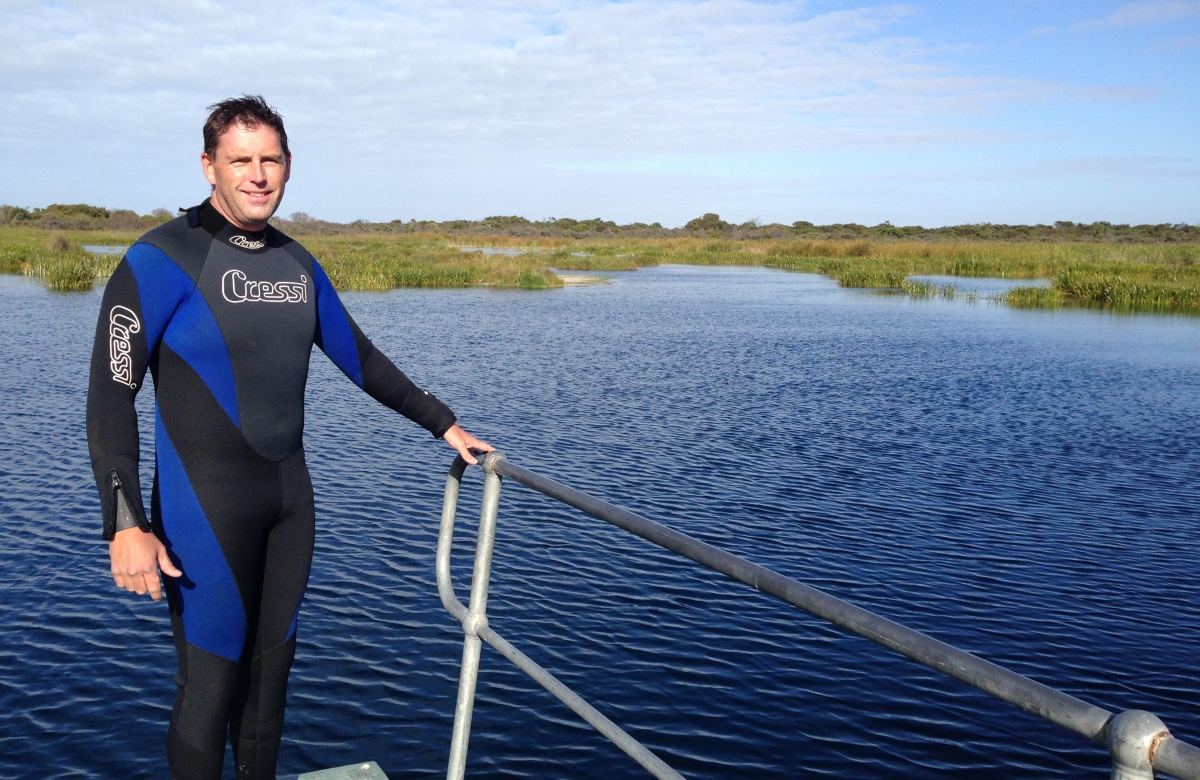 Ian is a keen scuba diver and loves exploring underwater cave systems.
Do you have a tips for how we as individuals can help ensure the sustainability of water resources?
Petr Kvapil: Everyone can contribute, starting at home. All you have to do is be a good household manager, both in terms of the careful use of water resources and also their quality: use only what you really need and think about what does not belong in a canal. I think this is true in general, not only in the field of water, but also in energy and the use of other materials and resources.
Ian Phillipps: Value water. Globally we don't have a drop to spare. If we conserve water better, we don't need to treat it so much, or look for more water resources to use. Think and act locally and support the many initiatives that will be occurring in your community, cities, or country. When you speak to those impacted by the lack of clean and fresh water, you realize that the value of water is priceless. Water is a limited resource, so we need to apply unlimited resourcefulness to conserving, supplying and managing it.